CompTech Ltd
90pcs Electronics Repair Tool Kit Professional, Precision Screwdriver Set Magnetic for Fix Open Pry Cell Phone, Apple iPhone, Computer, PC, Laptop, Tablet, iPad, Mac book with Portable Bag
Regular price
WS$ 165.00 WST
Regular price
Sale price
WS$ 165.00 WST
Unit price
per
Sale
Sold out
【Screwdriver Set 】 90 in 1 electronics repair tool kit professional includes 56 screwdriver bits (Phillips, Flathead, Torx, Torx Security, Pentalobe screwdriver and more), handle bar, extension bar, flexible extension shaft, anti-static wrist band, ultra-thin steel spudger, fiber nylon and plastic spudgers, triangle plastic picks, tweezers. Completely re-engineered to provide all the tools that you need, and none that you don't.
【Wide Application】This precision screwdriver set has 56 bits, complete with every driver bit you'll need to tackle any repair or DIY project. In addition, this repair kit has 22 practical accessories, such as magnetizer,, ESD tweezers, suction cup, spudger, cleaning brush, etc. Whether you're a professional or a amateur, this toolkit has what you need to repair all cell phone, computer, laptops, SSD, iPad, game consoles, tablets, glasses, HVAC, sewing machine, etc
【HIGH QUALITY MATERIAL】56 magnetic screwdriver bits made with high quality S2 stainless steel material. It's hardness can reach over HRC62°, which is harder than the CRV-material and more durable, all of standard size bit undergo the rigorous quality control testing, the tip is stable and not easily stripped. Anti-slip metal spudgers are made of sturdy stainless steel and nylon fiber spudger
【Portable】 The Repair tools are held in a tear-resistant and shock-proof oxford bag, offering a whole protection and organized storage, no more worry about losing anything. The tool bag with nylon strap is light and handy, easy to carry out, or placed in the home, office, bag drawer and other places
56 magnetic screwdriver kit
✔ Hex: H0.7 H0.9 H1.3 H1.5 H2.0 H2.5 H3.0 H4.0 H4.5 H5.0 H6.0 ✔ Nut Driver: 2.5 3.0 3.5 4.0 4.5 5.0 5.5mm ✔ Nut Driver: 2.5 3.0 3.5 4.0 4.5 5.0 5.5mm
✔ Flathead: 1.0 1.5 2.0 2.5 3.0 3.5 4.0mm
✔ Phillips: PH000 PH00 PH0 PH1 PH2
✔ Torx: T2 T3 T4 T5 T6 T7
✔ Torx Security: T8 T9 T10 T15 T20
✔ Tri-wing: Y0.6 Y2.0 Y2.5
✔ Pentalobe: 0.8 1.2 1.5mm
✔ Square: S0 S1 S2
✔ U-shaped: U2.6 U3.0
✔ Triangle: 2.0 3.0 ✔ SIM Eject Bit: 0.8mm ✔ Anti-Phillips: PH2
Share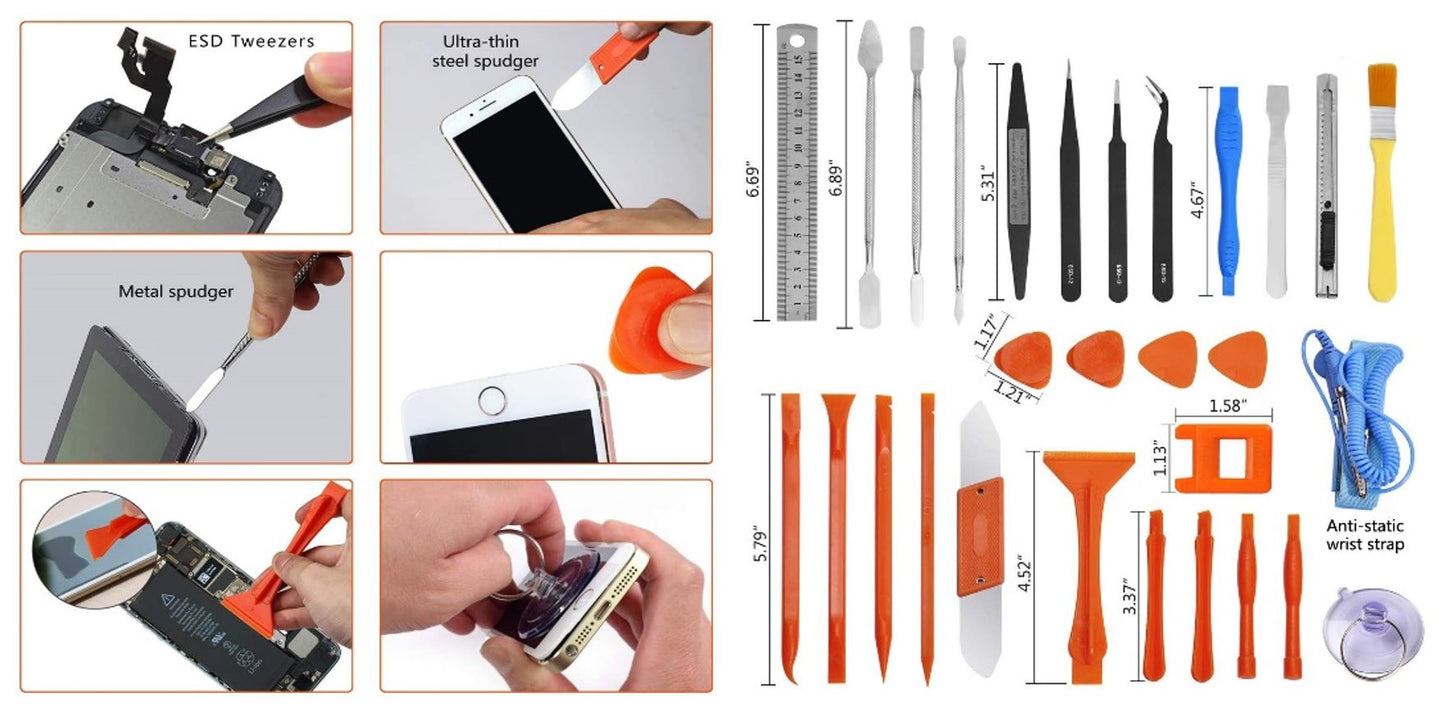 Free Shipping

Free Shipping within town area for orders over $200.

Call us if you are unsure if you are within the Town Area Zone.

Delivery order cutoff for the day is 12pm .

Any orders placed after 12pm may be scheduled for delivery the following day.

Saturday Delivery only for orders from day before. 

No Deliveries on  Sunday or Public Holidays 

Have a question about this product

Click on th chat with us icon botom right of your screen

We will reply as soon as we can .