Duracell
Duracell® AAA Rechargeable Batteries
Regular price
WS$ 95.00 WST
Regular price
Sale price
WS$ 95.00 WST
Unit price
per
Sale
Sold out
Product details
At Duracell, we provide trusted power to those who depend on us to keep their lives charged. Duracell Rechargeable Batteries hold a charge for up to 1 year in storage and are guaranteed to last up to 10 years or 400 recharges, whichever comes first. With Long-Life Ion Core Technology you get amazing power in every battery, lasting 50% longer per charge*. Plus, they come pre-charged and ready-to-use, and are compatible with any NiMH charger.
Duracell AAA batteries provide long-lasting power to your everyday high-drain devices such as high-powered flashlights, battery-powered toys, baby monitors and more. Duracell is the #1 trusted battery brand, and we're proud to offer you Duracell Rechargeable AAA batteries as part of Duracell's trusted lineup of batteries.
*vs. AA 1350mAh within the first 200 cycles
Duracell 1.5V Rechargeable AAA Batteries, 4 Pack, Long-Lasting
#1 trusted battery brand*
4-pack of rechargeable AAA batteries
Recharge up to 400 times
Compatible with any NiMH charger
Pre-charged and ready-to-use when you open the package
Hold a charge for up to 1 year when not in use
Guaranteed 10 years in storage
Guaranteed to protect your devices from damaging leaks**
Voltage: 1.5 Volts
Duracell Rechargeable AAA batteries are available in packs of 4
Share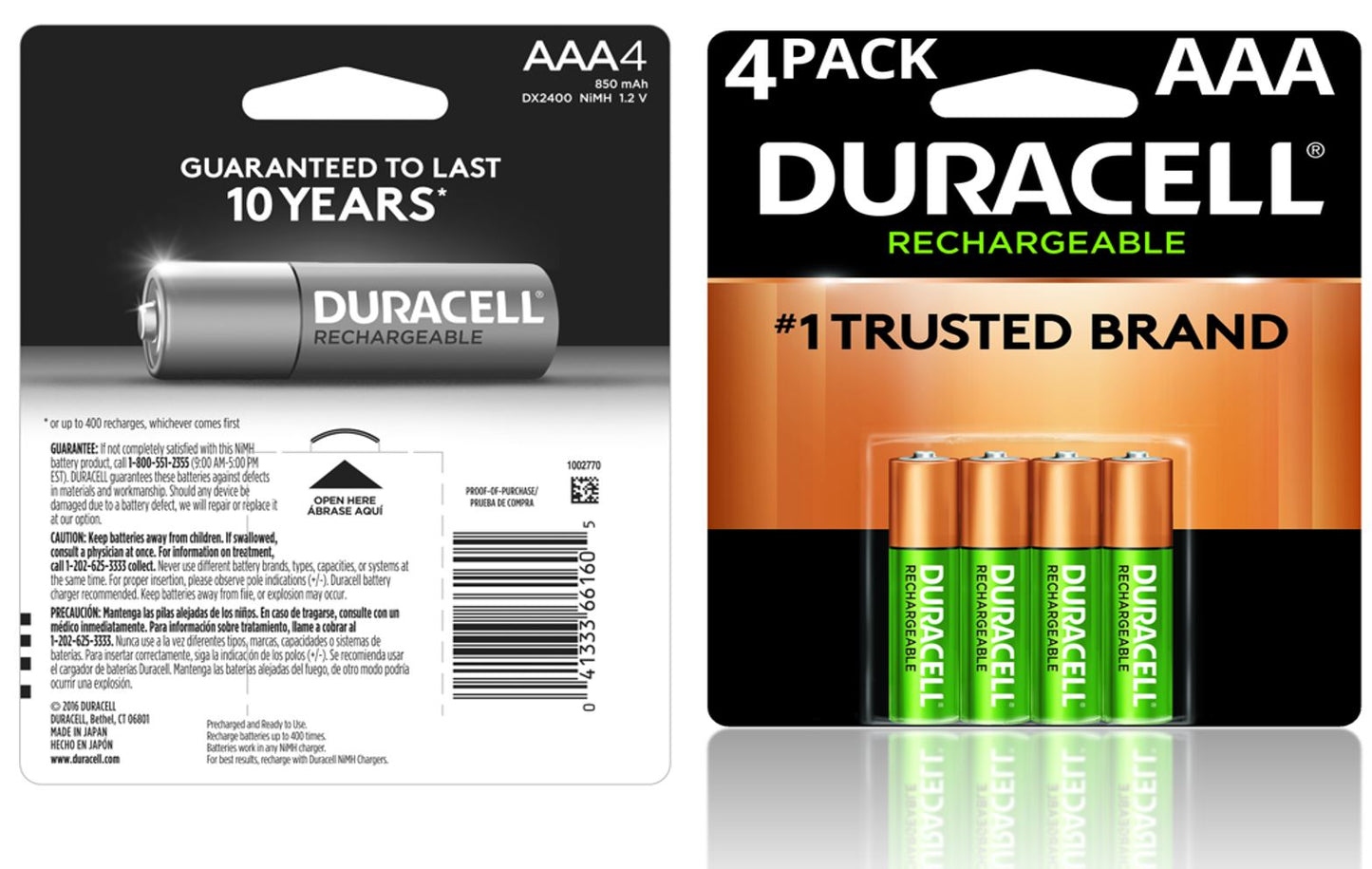 Free Shipping

Free Shipping within town area for orders over $200.

Call us if you are unsure if you are within the Town Area Zone.

Delivery order cutoff for the day is 12pm .

Any orders placed after 12pm may be scheduled for delivery the following day.

Saturday Delivery only for orders from day before. 

No Deliveries on  Sunday or Public Holidays 

Have a question about this product

Click on th chat with us icon botom right of your screen

We will reply as soon as we can .