CompTech Ltd
Network RJ11 Line Finder Cable Tracker Tester Toner Electric Wire Tracer Pouch
Regular price
WS$ 210.00 WST
Regular price
Sale price
WS$ 210.00 WST
Unit price
per
Sale
Sold out
Product Features:
QUICK AND EASY DIAGNOSTIC: Widely applied in Checking Short Circuit, Locating Open Circuit, Wire Tracing, Wire Identification etc. Judge continuity of the cables or wires, and diagnose the break point. Time saver, making your repairs quicker, makes things easier to find troubles, Tried to find a fault in auto electric circuit.
WITH ALLIGATOR CLIPS & RJ11 PLUG: The wire tracer & circuit tester with alligator clips & RJ11 plug can help you quickly detect the continuity of cables or wires, no more calls, no more cost, find and fix it by yourself.
SUITABLE FOR DC 6~42 Volt CIRCUIT POWER: Operates on DC voltages from 6 to 42 Volts under any circumstances. Internally Protected Against Power Surges and Overloads. Built-in Buzzer Sound Show Open or Short Circuit Conditions, Comes with a storage bag, easy to carry.
7" FLEXIBLE PROBE: You can also find intermittent circuit problems by flexing wires or connectors and listening for a change in the receiver tone, 7" flexible Probe allows reaching wires in congested places: Adjustable sensitivity for all tracing needed.
MULTIFUNCTION WIRE LOCATOR: One 9V batteries required, batteries are not included, and the probe NOT NEED touching the wire to pick up a tone. You Can Trace Wires in a Range of Wires and Cables Including Network Telephone Line, Coaxial and Verify the Continuity of Your Installation.
Product Specifications:
Material: Plastic
Receiver Frequency: 100 ~ 300kHz
Sender Frequency: 1.5KHz
Connector: RJ11
Receiver: On/Off button Test button
Probe length: 7 inch flexible probe
Sender: Tone/Off/Cont (Continuity) switch Tone/Cont (Continuity)
LEDs Red and black test leads cable (61cm length, approximate)
Receiver Dimensions: 38.5 x 4 x 2.3cm (H x W x D, approximate)
Sender Dimensions: 6.5 x 5.6 x 2.1cm (H x W x D, approximate)
DC Voltage: Operates from 6 to 42 volts Power : 2x9V battery (6F22) not included
Please Note: This product set needs two batteries. Please install 9V 6F22
battery in both Receiver & Transmitter.
Cable Signal Locator Tester
Test Circuit Continuity
Multifunction Wire Locator:
Trace Wires in a Range of Wires and Cables
Find Wires Quickly and Accurately:
Quickly Detect the Continuity of Cables or Wires
The Probe Not Need Touching the Wire to Pick Up a Tone.
Non-contact Probe Audibly Identifies Selected Wire or Cable
Package Included:
1 x Automotive Short and Open Finder Sender
1 x Automotive Short and Open Finder Receiver
1 x Carrying bag
1 x English User Manual
Share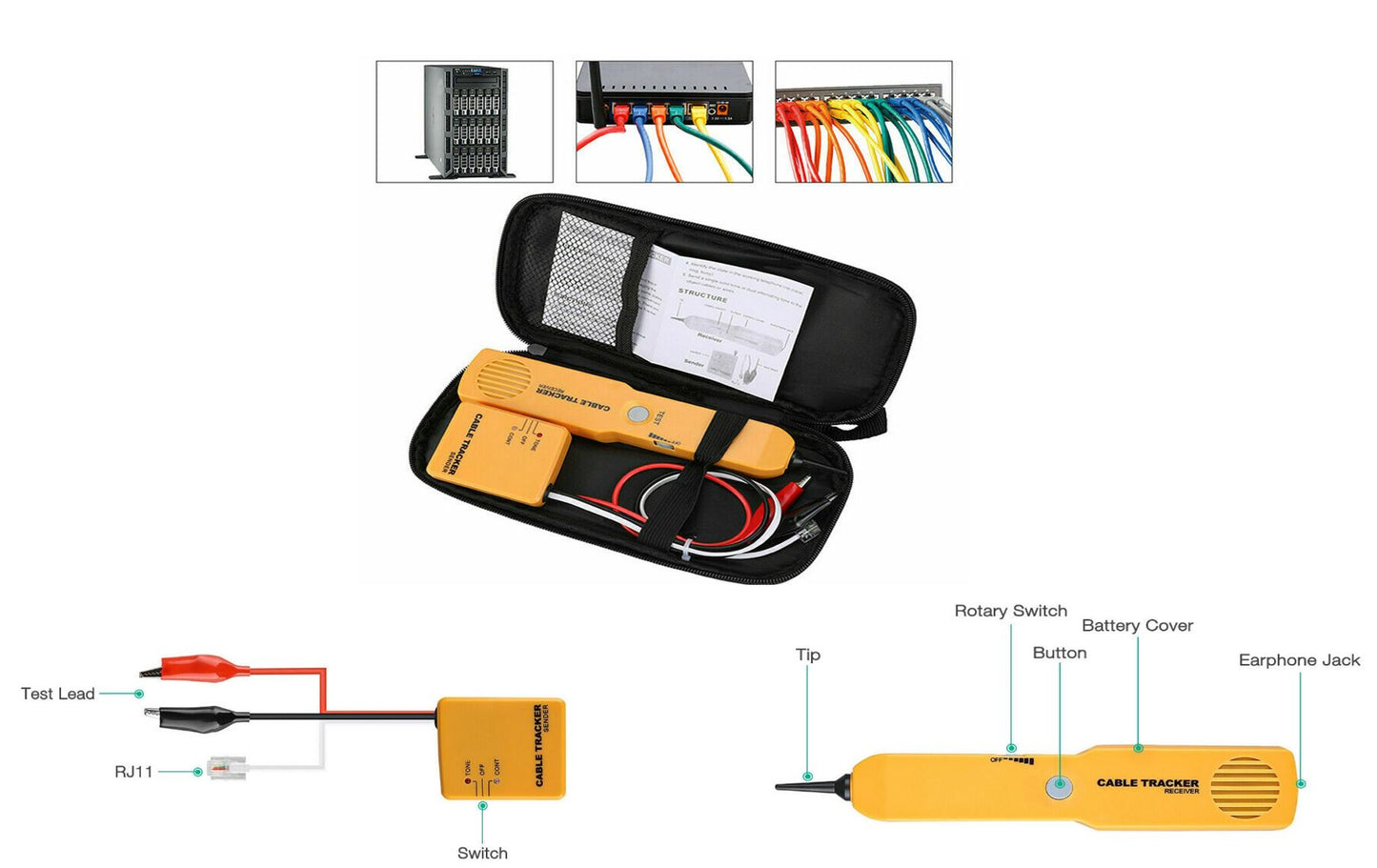 Free Shipping

Free Shipping within town area for orders over $200.

Call us if you are unsure if you are within the Town Area Zone.

Delivery order cutoff for the day is 12pm .

Any orders placed after 12pm may be scheduled for delivery the following day.

Saturday Delivery only for orders from day before. 

No Deliveries on  Sunday or Public Holidays 

Have a question about this product

Click on th chat with us icon botom right of your screen

We will reply as soon as we can .